The day Maren Morris met Buddy Miller, she and her publisher were pitching songs for the television show "Nashville." When Morris headed out to sea on the annual Cayamo music cruise, Miller asked her to play the song she played that day called "The Book."
Miller and Morris were sharing stories somewhere out in the Atlantic on a special Cayamo taping of the Buddy & Jim Show on SiriusXM radio.
"My informant Kate York says you're breaking all kinds of records," Miller said of news of Morris receiving the most radio adds for a female artist.
Just then co-host Jim Lauderdale joined in. "My source says it's one of the most added records in Billboard history."
"I don't know what's going on," responded Morris who has recently released her first single "My Church." "I'm just along for the ride."
The single is a nod to the joys of songwriting. But the twenty-five year old Morris is not new to music. She began touring the Texas honky tonks and bars beginning at the young age of eleven. "My parents were there too," Morris laughed. "Someone had to drive me."
When a fan sent her a CD she had recorded at thirteen, Miller reminded her that she covered his song called "Help Wanted," saying he'd really like to hear that. Morris rebuffed him by saying "No you wouldn't."
Perhaps he'll wait for her just-finished new album for which Morris will be supporting when she goes out on the road in June, opening for Keith Urban.
Over the past few years, Miller set up recording equipment in the boat's Bliss Lounge and recorded duets with various artists on the Cayamo Cruise. The fruits of his labor have been realized with the release of Cayamo Sessions At Sea. The album features guests including Lee Ann Womack, Shawn Colvin and Lucinda Williams. Among the highlights include the Dolly Parton and Porter Wagoner duet "Just Someone I Used To Know" covered by Miller and Nikki Lane. Womack and Miller re-enact Conway Twitty's "After The Fire Is Gone."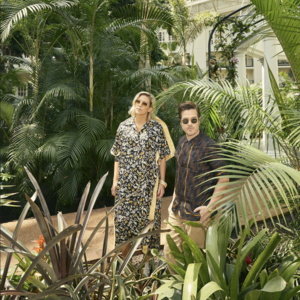 This year, another of Miller's finds left the confines of Nashville to head out to sea. It was Amy Stroup and Trent Dobbs better known as Sugar & The Hi-Lows. The duo met at a co-writing session in 2012 and hasn't looked back. "It was one of my favorite co-writes and we just kept co-writing," Stroup said.
The four years since have been exciting. As executive music producer, Miller has utilized some of the duo's songs throughout the show's four seasons. Recently he got to see the duo at the Ryman Auditorium backed by Kacey Musgraves' backing band. Musgraves also took Stroup and Dobbs to the UK where they appeared at the Royal Albert Hall. Said Dobbs, "It was a musical Make-a-Wish. I don't know how to explain it."
On the cruise, the duo played "Bees Left The Trees," a playful poke at the Nashville music establishment. "We gave Music Row a little shout-out," Stroup explained. "Sometimes the suits are a little crazy."
The song was written in response to fans who often ask about how they made it. "The advice really is don't go away," Stroup added. "You just want to keep doing this so don't go away."
Folk singer Slaid Cleeves was on the boat having arrived from his native Texas. The longtime Austin resident recently moved away from the traffic of Austin to the countryside of Wimberley. Years earlier, Miller met his wife Julie through one of Cleeves' collaborators.
Accompanied by mandolin player Jo Jo Jaques, Cleeves began his set by quoting Woody Guthrie who said, "A folk singer's job is to comfort the afflicted and afflict the comfortable."
Cleeves did just that with his provocative "Still Fighting The War," the title track from his most recent album.
Miller asked him to play songs from his new album. Cleeves joked that it's largely unwritten but played a new song about how people get together and bond over the shared experience of alcohol. Against the imagery of being in a bar hearing George Jones, Cleeves sang the song's killer and memorable line: "Heartbreak goes down easier with beer and rhyme."
I only wish I had thought of it first.